Emerald Bay Engagement Photography | South Lake Tahoe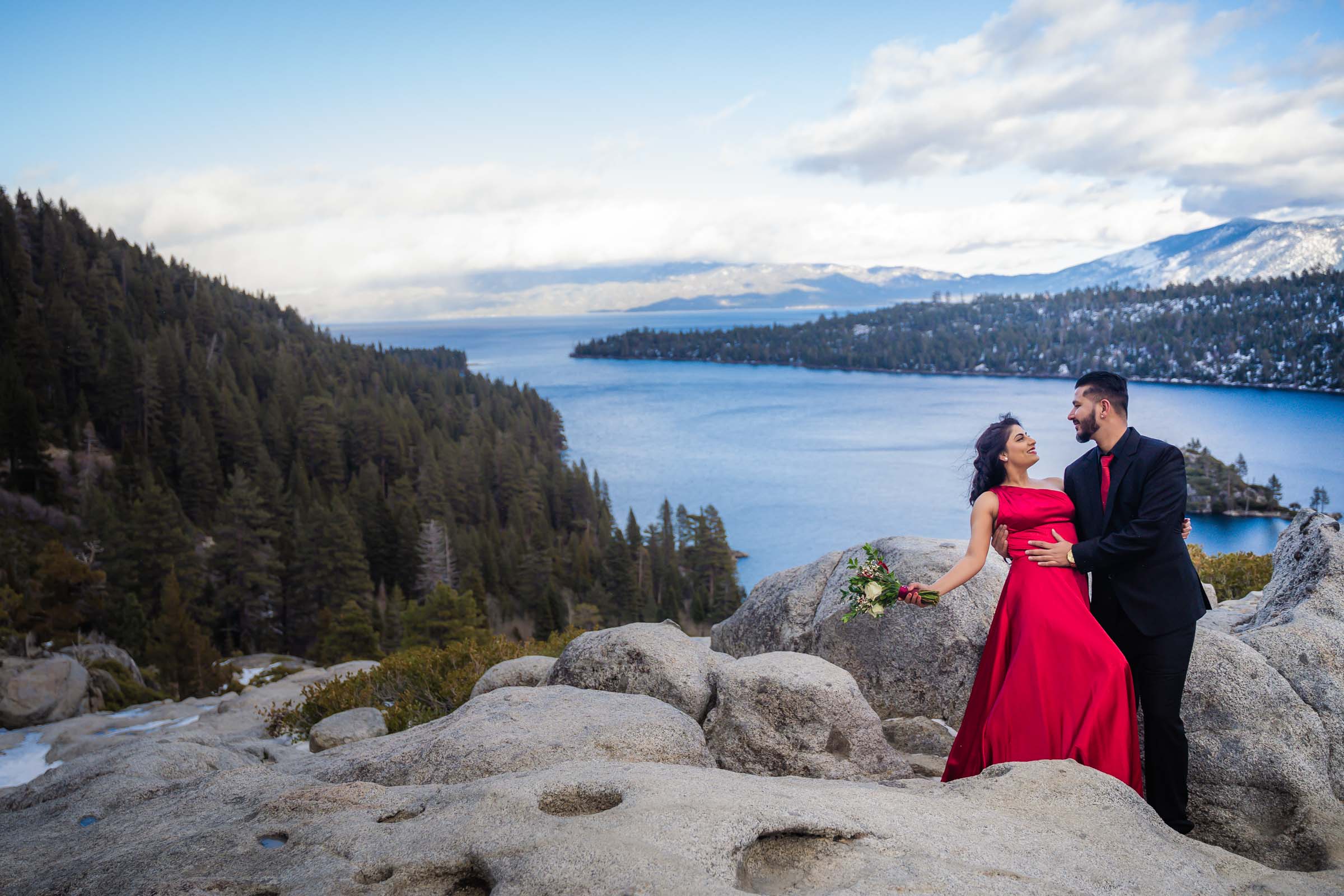 Emerald Bay Engagement Photography
One winter afternoon, Manpreet called me to say that she and her family were coming up to visit Lake Tahoe as a pre-wedding vacation. They had never been to Emerald Bay before, so I suggested a few locations that we could go to for their engagement photos. Out of the many beautiful vistas around Lake Tahoe, Emerald Bay is one of its gems. Of course we had to go sometime during their visit for their Emerald Bay engagement photography session.
We met at the Vikingsholm trail entrance, one of the places around the lake that you can see a clear view of Fannette Island for their Emerald Bay engagement photography session. Vikingsholm is considered one of the finest examples of Scandinavian architecture in the United States. It was built in 1928 by Mrs. Lora Josephine Knight. She wanted to build a summer home that would compliment the magnificent natural surroundings, and said that Emerald Bay reminded her of fjords she had seen on her travels to Scandinavia. She decided to commission her nephew, Swedish architect Lennart Palme, to design the home. Vikingsholm was completed in the fall of 1929. The exceptional summer home was enjoyed by Mrs. Knight and her guests, until her death at the age of 82 in 1945. It is now a part of the Harvey West Unit of the Emerald Bay State Park. The house is open for tours during the summer months and the magnificent scenery can be enjoyed all year round.
Manpreet + Gurvinder came dressed in the most beautiful, vibrant red dress and tie, which provided a stark contrast to the blue of the lake. It was a sunny winter day and the conditions were cold but vibrant. I asked if they were down to go hiking in their fancy clothes, and of course they were. We clambered up the top of rocks and over snow piles to get to the ledge overlooking Fanette Island. Gurvinder brought a bouquet of red roses, surprising her with them as they got to the top. It was the cutest. Congratulations on your upcoming wedding celebrations and thank you for trusting me with your beautiful Emerald Bay engagement photography session!
About Starscape Studios
Kimmi Cranes is a South Lake Tahoe based wedding, engagement, and family portrait photographer. Her style combines color, vividness, and authenticity to capture genuine smiles and moments to remember during your wedding day or photography session. She offers hourly photography services and wedding day photo packages. Kimmi services locations around Lake Tahoe, Sacramento, CA, Reno, NV, Los Angeles, CA, San Francisco and the greater Bay Area – and also available for travel to destinations worldwide. Currently booking weddings and other engagement, proposal, corporate, and family photography sessions for 2020 and 2021.
Find me on | facebook | instagram | yelp reviews | google business | wedding wire |
More Lake Tahoe Engagement & Wedding Photos
If you enjoyed these Emerald Bay engagement photos, please check out my other Lake Tahoe couples galleries!
See other couples photo sessions: Kiva Beach Maternity Session | Engagement Session at Fallen Leaf Lake
Photos from South Lake Tahoe Wedding venues: Black Bear Lodge | Regan Beach | Lakeside Beach